Efficient Wardrobe Organization Made Easy With Custom Wardrobe Compartments
Streamline your wardrobe with our custom jewellery wardrobe organizer. Designed with precision, our drawer compartments keep your ties, innerwear, socks, and other items in perfect order. Say goodbye to clutter and hello to an organized wardrobe
Tie Organizer
Introducing our specialized drawer compartments for ties – a game-changer for your closet organization. Our custom drawer organizer ensures each tie has its designated space, preventing wrinkles and tangles. Elevate your tie collection and streamline your daily routine.
Innerwear Organizer
Bid farewell to drawer chaos with our drawer organizer solution for innerwear. Our custom compartments keep your innerwear impeccably organized and easily accessible. Transform your closet into a haven of order and efficiency with Betterment's innerwear organizer.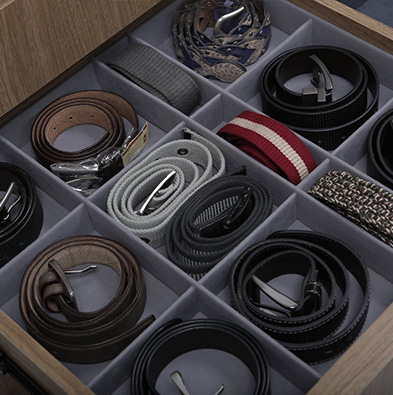 Belt Organizer
Unveil a new dimension of wardrobe organization with our specialized belt organizer. Our drawer compartments offer a tailored space for each belt, ensuring a clutter-free and elegant closet. Elevate your wardrobe management with Betterment's expertly designed solutions.
Socks Organizer
Elevate your sock organization to new heights with our custom drawer compartments. Our thoughtfully designed organizer brings order to your socks collection, ensuring easy pairing and quick access. Experience the joy of a well-organized and efficient wardrobe with Betterment.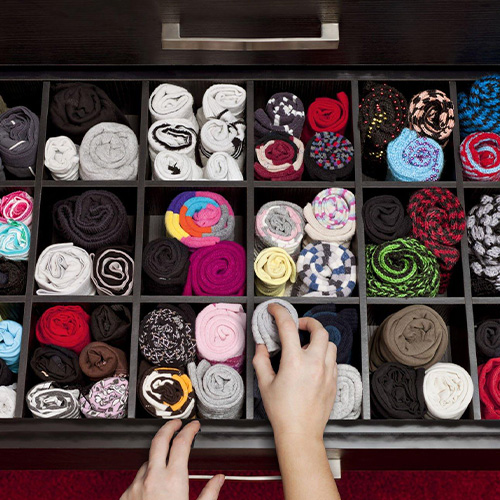 Optimize Your Storage Space Using Our Practical Drawer Compartments
Maximize efficiency and keep your belongings in perfect order with our customizable compartments. Elevate your closet with Betterment's wardrobe organizer.